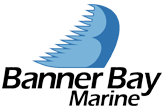 Your cart is currently empty
Pointer #1W Boats to 32 Feet
SKU:
BBARS01W-Webbing
Shipping:
FREE in USA
Customers Outside USA:
Contact Us Before Ordering
No backstay available? Our new Webbing Model satisfies the needs of customers who want a riding sail to hold them steady while anchoring but own a catamaran, cat-rigged boat, or boat with swept back spreaders where there's no backstay to attach the sail.
Instead of the traditional jib hanks, which would be attached to the backstay, the "Pointer W" has a 2,500 lb. webbing reinforcement sewn for the length of the back of the sail for extra strength.
The new Webbing Model is also popular with sailors who have trouble reaching up to attach hanks to the backstay due to the extensive sun dodger and bimini arrangements on some boats. It can also be the solution where an antenna obstructs the backstay.
Riding sails may be attached to the topping lift, but the popularity of solid boom vangs resulting in no topping lift, also creates a problem the new Webbing Model solves.
VERY EASY TO RIG
The sail may either be fastened to the boom, or rigged with two lines from the foot of the sail tied to each side of the stern to assure no lateral movement.
The rest of the rigging is traditional: The main halyard is used to pull the sail up with the strong webbing reinforcement allowing for a firm pull to hold it taut. Then a line is brought forward and tied to the mast, boom or some other point to align the sail forward.
CHECK OUT WHAT OUR CUSTOMERS HAVE TO SAY!
The suggested sail size is approximate for a given boat as it depends on the amount of correction the boat requires and how near the stern the sail can be rigged. Boats with lots of topside exposure often require more correction. If in doubt, we recommend you order the next larger size.
Dimensions: 6' 4" x 7' 6" x 7' 6" (1.93 x 2.29 x 2.29 meters)
Instructions and blue nylon drawstring storage bag are included.
Free Shipping Anywhere in USA!
Customers Outside USA: Please contact us for shipping costs before ordering.