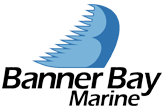 Your cart is currently empty
RopeTie Cleat Makes it Easy to Pull Sail Tight. Pack of 2.
SKU:
BB RT Lg
Shipping:
FREE in USA
Customers Outside USA:
Contact Us Before Ordering
The RopeTie is an in-line mounted jam cleat. We've found it is perfect for snugging down your Anchoring Sail. It is very easy to use. You simply bring the sheet forward and loop it around your mast, and back to the RopeTie. Pull tight. Your sail is set!
There are a multitude of uses for the RopeTie on your boat. The price is so reasonable, that we include TWO ROPE TIES IN EACH PACKAGE! Keep one on your anchoring sail where it is always ready, use the other in any way your imagination allows.
SPECIAL FEATURES
No threading required.

It gives you a 3-to-1 mechanical advantage, for easy snug down.

Easy to release, for quick take-down.

Versatile -- use them in many ways.
RopeTies are cast from a high-strength engineered grade carbon and glass reinforced polymer.
Safe working load is 500 lbs.
Suggested rope sizes: 1/4 inch to 7/16 inch (6 mm - 11 mm).
Shipping is FREE anywhere in the USA! You get TWO ROPE TIES in each package.
Customers outside USA: PLEASE CONTACT US for shipping costs before ordering.