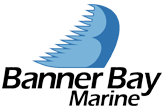 Your cart is currently empty
Some boats have extensive bimini structures that extend beyond the cockpit. The two lines from the FinDelta's wings can touch against the edge of the bimini when they are lead down to the stern cleats. There are several fixes for this: You can attach the FinDelta to your dinghy davits, or to your arch if you have one. Either will work very well. If you don't have davits, or an arch, you can make a simple spreader from a wood or aluminum dowel (even an adjustable boat hook) to hold the lines slightly outboard of the bimini frame.
A simpler solution is to slip our special Chafe Guards over the lines. They'll guard the Sunbrella from any rubbing. We make the guards of rigid PVC tubing with an elbow bend to fit around the curve of the bimini edge. The bend keeps the chafe guard from slipping out of place. The package contains two guards.
Leave your Chafe Guards on the lines when you return the sail to the bag and they'll be there the next time you use your sail.
Shipping in US: $1.50